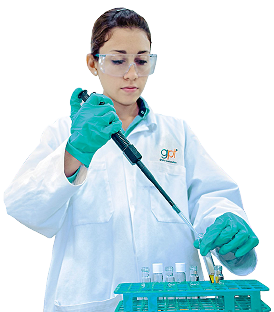 ABOUT US
Grupo Petrotemex (GPT«) is a leading petrochemical company with manufacturing assets in the Americas and the largest producer of Terephthalic Acid (PTA) in the region.
GPT« produces and supplies PTA, Polyethylene Terephthalate (PET) Resin and Polyester Staple Fiber (PSF) to a broad customer base.
End uses for these products include the beverage, food and personal care (cosmetics and personal hygiene) markets, as well as carpets, apparel and other consumer fiber based products.
QUALITY, INTEGRITY AND RELIABILITY
IntegRex« Technology is a growing family of PTA and PET processes by GPT« which incorporates innovations that radically reduces processing time, capital and operating expenses, and environmental footprint while achieving or exceeding market requirements for final product features and performance.
FACILITIES
GPT's corporate headquarters are located in Monterrey, Mexico, together with 13 production facilities in Mexico, United States and Argentina.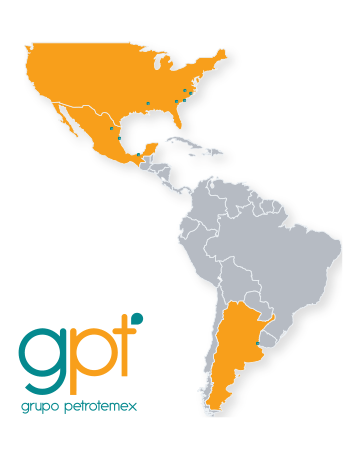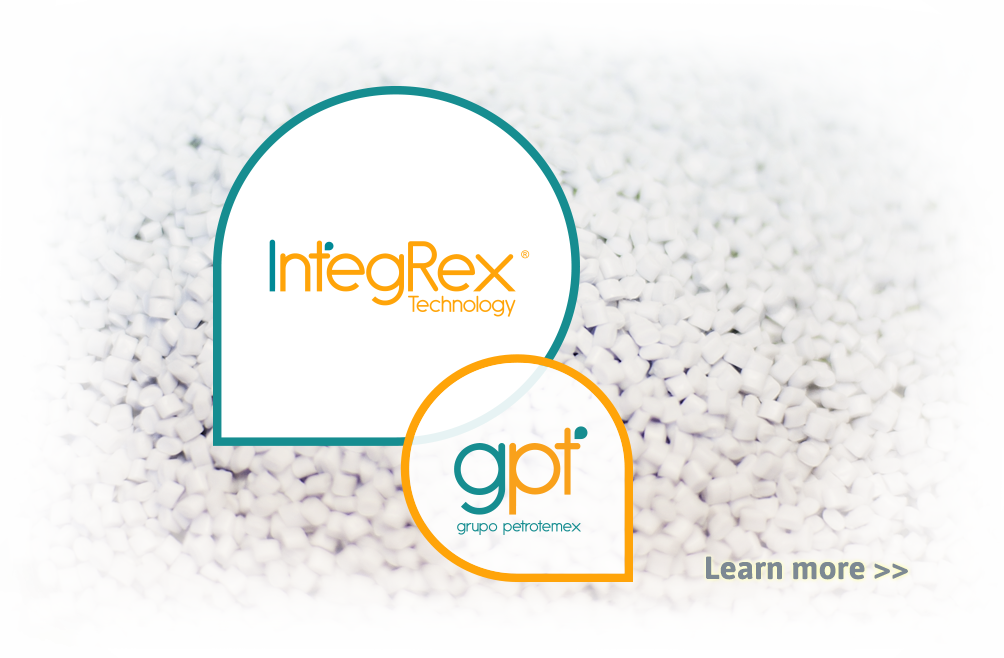 Cost saving new technology revolutionizes PTA and PET production.
IntegRex« Technology has been developed and operated for over ten years focusing in production processes of Terephthalic Acid (PTA) and Polyethylene Terephthalate (PET) resins. This exciting technology uses advanced process knowledge to redesign and simplify the whole production processes based on innovations, integrations and optimizations of the different stages of such processes, resulting in significant savings in both capital investment and conversion costs.
This technology represents a breakthrough covering the phases from the Paraxylene (pX) feeding, through the production of PET.
While IntegRex« processes of iPTA« / iPET« can be implemented independently, the full integration of both processes offers the largest benefits of this technology. The simplicity, reliability, and stability of the processes allows operational understanding focusing on the combination of the final quality of PET at optimized costs.
iPTA« / iPET« products are produced with a significant reduction of energy, water and raw materials consumptions, operation costs and capital costs. This translates to support for the producer and its clients to create final products with different brands, performances, and important environmental benefits; thereby creating value-added recyclable products in the market.
Finally, IntegRex« Technology makes efficient use of site space, requiring less footprint for its construction and subsequent operation. Also, it makes emphasis in performance improvements practically eliminating residual water streams (compared to other traditional technologies).


IntegRex« PTA (iPTA«) is a raw material used to manufacture polyester products such as staple fiber, polyester yarn, PET resin, film, etc. The end presentation of iPTA« is a white powder usually packed in 1 ton supersacks, railcar hoppers or hopper trucks amongst other packing forms.
PTA is formed from the reaction at high pressure and temperature of Paraxylene (pX) and Oxygen. pX is an aromatic hydrocarbon derivate from crude oil produced at refineries.
iPTA«PROCESS HIGHLIGHTS:
Highly optimized oxidation process - Low pressure reaction with no moving parts.
Best p-xylene conversion yield in the market with very low acetic acid consumption.
Highly efficient energy integration, exporting electricity recovered from the main process.
Minimal process wastewater production.
Non-hazardous solid waste suitable for landfill or components recovery.
Catalyst maximum recovery (>95%) at low energy consumption and capital cost.
High on-stream factor (proven experience of 8,400 hours per year).
No fuel requirement for off-gas abatement.
50% less site land requirement for ISBL and OSBL.
Less operation and maintenance personnel requirement.
Single line world-scale capacities.
Product quality suitable for any downstream processes.

IntegRex PET (iPET«) is a polymer produced from PTA / iPTA« and ethyleneglycol.
iPET« is a melt phase process that produces PET resins for multiple applications (bottle for carbonated soft drinks, bottle for water, polyester film, general purpose, etc.) without the Solid State polymerization process.
This results into lower Operation Costs and lower Capital Expenditure without compromising performance or quality and showing significantly lower values in critical properties such as acetaldehyde content during bottle manufacturing process.
Superior visual clarity enhances the presentation value of the product used mainly for packaging soft drinks and water.
iPET«PROCESS HIGHLIGHTS:
Highly optimized esterification and polymerization process with no internal moving parts.
Efficient plug flow polymerization process with best in class IV consistency.
Single line world-scale capacities.
Low residual acetaldehyde in resin pellets with the lowest acetaldehyde results for preforms and bottles.
High on-stream factor (proven experience of 8,400 hours per year).
No solid state operations or non-final product storage requirements.
Lower operation and maintenance personnel requirements.
Flexible designs for Fiber, to bottle resin to films.
No process wastewater production to treat in waste water treatment facilities.
PROCESS OPTIMIZATION
IntegRex« Technology is used to produce iPTA« , iPET«. Its capital and cost saving philosophy is based on simplifying and integrating the processes of pX-to-PTA (iPTA«) and iPTA«-to-PET (iPET«) into a closely coupled, scalable process:
Eliminating hydrogenation in the PTA Process ? no more costly high-pressure pumps, centrifuges and agitation.
Optimizing the chemical reaction with more than 99% pX yield.
Eliminating the solid-stating process ? reduces operating costs and the need for intermediate storage.
Reactors with no moving parts increases mechanical reliability.
Minimum water requirements and essentially no organic load to waste treatment.
Vertical integration with low cost PTA production.
Enables improvements on existing plants.
Here is how the IntegRex« process is optimize when compared to conventional technologies: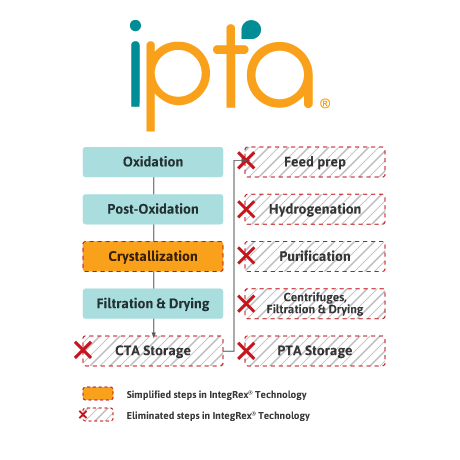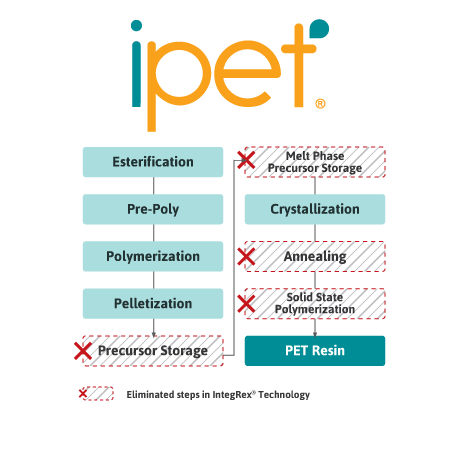 ADVANTAGES
ADVANTAGES OVER TRADITIONAL PTA AND PET PROCESSES.
IntegRex« Technology completely redefines PTA and PET production. It simplifies manufacturing by eliminating or optimizing entire process sections of both the PTA and PET processes, as well as in-process storage stages that do not provide added value to the supply chain. This simplicity allows the close-coupling of PTA and PET manufacturing processes in a smaller site footprint, with high mechanical reliability and less emissions, as compared with conventional technologies. The benefit? Even greater cost-efficiencies and sustainability. Compared to conventional PTA and PET processes, IntegRex« technology stands out for fewer process steps, simplicity, reliability, and cost-efficiency, which translates into an accepted product consumed by some of the biggest worldwide organizations.
RESIN COMPARISONS
IntegRex« PET is a melt phase process that produces PET resins for multiple applications (Container Soft Drink, Water Bottle, General Purpose, etc.) without the Solid-Stating polymerization process. This enables low cost operations and lower Capital Expenditure without compromising performance or quality.
Even though the iPET« pellets vary in color, size and shape; all result in a bottle sidewall with virtually identical L* color. IntegRex« PTA (iPTA«) can be utilized in all PET manufacturing technologies without compromising the final product clarity or quality.
FOOTPRINT EFFICIENCY
IntegRex« Technology has been used successfully since 2007, to commercially produce PET at facilities in Columbia, South Carolina, United States. It has three times the capacity in half the footprint of conventional PET technology.
DIFFERENTIATION CREATES VALUE IN THE MARKETPLACE.
IntegRex« Technology helps you and your customers create end products with distinct performance,brand and environmental benefits. By producing a water- and CSD-grade iPET resins with 25 percent less acetaldehyde and excellent clarity and gloss, IntegRex« can differentiate your end product and create value in the marketplace.